Book Review: The Yuletide Angel
Once a month I review a book – usually fiction, sometimes non-fiction. Grab your favorite hot beverage (mine's a mocha), and let's talk reading!
What if the only time you find your voice–your calling–is under the cover of night? And what if you suspect you're not alone? This month I review Sandra Ardoin's new Christmas novella, The Yuletide Angel. True, it's not Christmastime yet, but you might go ahead and add this to your To Be Read pile for next month.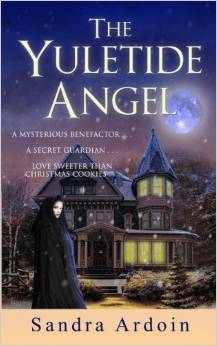 Rating: 4 mochas out of 5
You might like this if you like: Christmas fiction, the Victorian area
What it's about (from the back cover): "It's Christmastime in 1890s Meadowmead, and someone is venturing out at night to leave packages at the homes of the needy. Dubbed The Yuletide Angel, no one knows the identity of this mysterious benefactor.
No one, except Hugh Barnes, a confirmed bachelor who finds himself drawn to the outwardly shy but inwardly bold Violet Madison, a young woman who risks her safety to help others.
When Violet confesses her fear of eviction from her childhood home, Hugh longs to rescue her. His good intentions are thwarted, however, when Hugh's estranged brother shows up in town … and in Violet's company.
But Violet faces an even bigger threat. A phantom figure lurks in the shadows, prepared to clip the wings of The Yuletide Angel."
What I liked: I love this time of year for fiction. Christmas novellas like this scratch a holiday itch. It's perfect for curling up with hot chocolate, a blanket, and a flaming fireplace for an evening. Violet and Hugh's story leaves the reader satisfied by a sweet story. Make no mistake: it's not all fluff and cotton candy. Ardoin threads spiritual truth throughout.
I wasn't crazy about: The level of tension. I expected more from a couple of aspects of the story. It's a mild complaint, though. Christmas fiction needs only a pinch of suspense to make me happy.
The bottom line: The Yuletide Angel fits the bill for a cozy Christmastime read.
What about you? Do you like to read anything special during the holidays?