Time Travel: The "White Christmas" that You (Maybe) Never Knew
Christmas songs. Which are your favorites?  You're not alone if the classic "White Christmas" made your list. Most of us could sing it in our sugarplum-induced sleep. But with all its familiarity, do you know everything about this tune? Here are a few tidbits that may be new to you.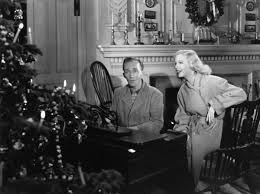 Best seller. The Bing Crosby version of the song rests unrivaled as the most popular of all time. In fact, his recording remains the best-selling single in history. Crosby debuted "White Christmas" on Christmas Day, 1941.
Composer. The songwriting master Irving Berlin penned the song. Most people know that, but consider the irony: Irving Berlin was a Jewish person who composed one of the best-loved Christmas tunes.
Tragedy. While not proven, some believe that tragedy birthed Berlin's inspiration to write "White Christmas." His infant son, Irving Jr., died on Christmas Day, 1928. It is speculated that the melancholy song paid tribute to his child.
Screen Origin. Ask almost anyone which movie first claimed the song, and they'll give you a funny look. "'White Christmas', of course," they'll reply.
Nope. While that film is a king among holiday movies, "White Christmas" appeared first in one of my favorite Christmas movies, "Holiday Inn," (see photo above) starring Bing Crosby and Fred Astaire. Surprisingly, another song from the movie, "Be Careful, It's My Heart," garnered more attention than "White Christmas."
There you have it. I wish you a Merry (and a white) Christmas season, dear readers!
Your turn: Care to share your favorite Christmas carols or songs?
What to know more? I highly recommend Ace Collins' books exploring the background of Christmas songs and carols:
Stories Behind the Best-Loved Songs of Christmas
More Stories Behind the Best-Loved Songs of Christmas