Review: Truth Matters
Once a month I review a book – usually fiction, sometimes non-fiction. Grab your favorite hot beverage (mine's a mocha), and let's talk reading!
It's a non-fiction month. Fair warning: this one challenges us to dust off our thinking caps. Get ready for Truth Matters: Confident Faith in a Confusing World by Darrell Bock, Josh Chatraw, and Andreas J. Kostenberger. But the thinkiness is worth it.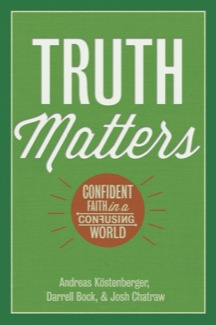 Rating: 4-1/2 mochas out of 5
You might like this if you like: Christian non-fiction in general, writers like Josh McDowell or other defenders of the faith.
What it's about: Nationwide, Christian teenagers by the droves are leaving church and their Christian faith after graduating high school. One common thread: their lack of a solid understanding of the reasons for their faith. They leave the relative security of their church youth groups and come under attack in the "real" world by those bent on derailing Christianity. They face questions like, "How can you prove God is real? What about the Bible's inconsistencies? How can you believe that Jesus was anything more than a good teacher?"
The authors of Truth Matters want to turn the tide. This book aims to arm Christian high schoolers with foundations for faith in order to withstand verbal attacks in college and elsewhere. Thoroughly they discuss answers to the questions above and more. But the kicker is that all Christians–high school and older–can benefit from this project.
What I liked: Truth Matters doesn't pull punches. It's a slim-ish volume that gets down to business. It pinpoints the "greatest hits" of the world's attacks against Christianity. In that sense it proves highly valuable. It fills a need. Our church's youth group went through the book this summer, and many hungered to add to their understanding of the topics addressed.
Like I said before, this isn't just for teens facing post-high school life. Too many "veteran" Christians need a deeper understanding to answer those who ask the hard questions, including the questions we ask ourselves deep down.
I wasn't crazy about: Despite its target audience, at times the complex concepts can seem challenging even for adults. But that's okay, too. Sometimes as Christians we're too used to baby food. We need to be challenged.
The bottom line: Truth Matters, hands down, is worthwhile. I daresay most of us could use at least a refresher in how to converse rationally about our faith with a non-Christian.

What about you? When do you find it most challenging to answer Christianity's critics (who could also, secretly, be seekers)? Have you found other favorite resources along these lines?