Review: Marvel's Agent Carter
Once a month I offer a review– usually fiction, sometimes non-fiction, sometimes movies/TV. Grab your favorite hot beverage (mine's a mocha), and let's talk!
Marvel's Agent Carter, an eight-part weekly series airing now on Tuesdays, takes the stage this month.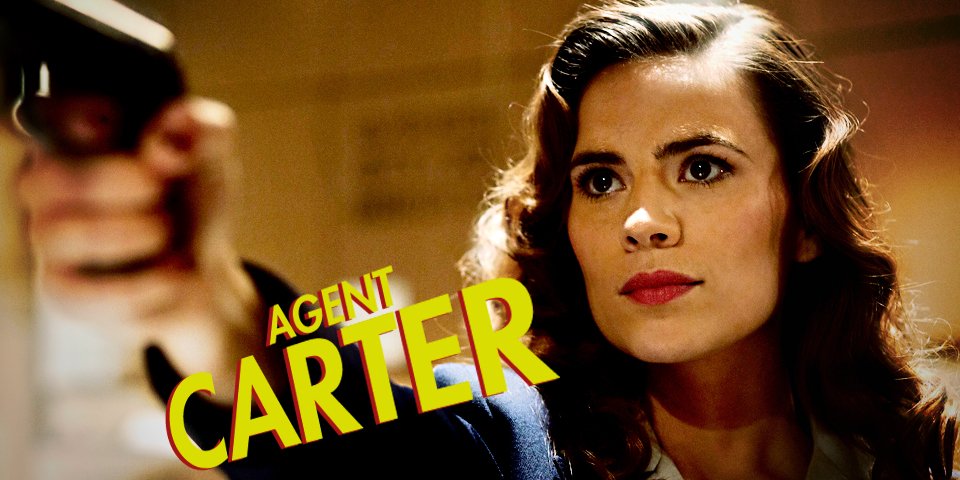 Rating: 4-1/2 mochas out of 5
What it's about: Think post-World War II New York meets female super-spy. Moviegoers met Agent Peggy Carter in Marvel's first Captain America movie (2011), where she played key roles in the Army's war effort. With America settling into post-war life, she finds herself still a covert agent yet relegated to tasks viewed by her male counterparts as more befitting a woman. She's bored, frustrated, and grieving the presumed-dead Steve Austin, a.k.a. Captain America.
Her boredom doesn't last long. The Strategic Scientific Reserve (SSR), her employer, hunts a friend of Carter's as an assumed traitor. He's innocent and turns to Carter for help. She wants to clear his name but must do it undercover…as a double agent in her own organization.
With only the aid of her friend's butler, the amiable and capable Jarvis, can Carter prove her friend's innocence in the growing shadow of evil, keep her cover, and win the respect of her colleagues? Making new friends along the way won't hurt, either. Usually.
You might like this if you like: 1940s adventure, post-World War II life, the Captain America storylines, spy stories in general and/or female spies such as Alias' Sydney Bristow.

What I've liked: Three of the eight episodes have aired as of this writing (go to ABC's website here to catch up on previous episodes). I'm a fan. Hayley Atwell deftly reprises the role of Agent Carter. The fast-paced show is equal parts thriller and mystery, with a glimpse of post-war society and dash of friendship mixed in.
At the risk of gushing, I'm loving the 1940s clothes and sets too. Some costumes, including a few of Atwell's, are authentic vintage pieces.
I'm not crazy about: Let's be honest: it wouldn't be much of a thriller or spy storyline without danger. The three episodes so far have sprinkled in a tad too much violence (and brief suggestive elements) for my taste. It's comparable to what we see in the Marvel movies, such as both Captain America installments, so if you were okay with those you'll be okay here. It's still cleaner that most of what's on prime time these days.
And to nit-pick, the film noir-type soundtrack borders on kitschy at times. Not enough to turn the channel, though.
The bottom line: Agent Carter offers a breath of fresh air in today's sea of TV sameness. It's not the 266th NCIS series, a stale sitcom, or a mind-numbing reality show like Honey Boo Boo Meets the Real Dance Moms Plus Eight (no offense if you like those kinds of shows; I'm not completely immune).  The setting and engaging lead characters blend to create a story that's entertaining and transporting. It's fun and fascinating to dive into this era through the eyes of Carter. Rumors hint that we might see more Agent Carter if this eight-part series does well.
Godspeed, Agent. We hope to see you again.
What about you? Does a story like this have you from the get-go, or does this veer from your usual taste in TV shows or movies? If you've seen this show, what do you think of it?
Related Links:
Marvel One Shot: Agent Carter  – A 12-minute standalone story released in 2013