Review: Red River of the North Series, Books 1-3
Once a month I offer a review– usually fiction, sometimes non-fiction, sometimes movies/TV. Grab your favorite hot beverage (mine's a mocha), and let's talk!
Dakota Territory, late 1800s. Would you have what it takes to scratch a living out of an unforgiving but fertile land? We're talking about Lauraine Snelling's sweeping fictional saga of the Bjorkland family and their fellow pioneers in her Red River of the North series. So far I've finished the first three books, beginning with An Untamed Land.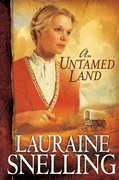 Rating: 5 out of 5 mochas
What it's about: A family of five–two brothers and their wives, plus one young son–strike out from Norway for a new life on the the American frontier. The land, the language, and the challenges of survival throw constant tests in their path. Yet they persevere and grow. Years pass, bringing heartache, success, and more family and friends to share their new life.
The main character, Ingeborg, and her sister-in-law Kaaren provide the strong, consistent thread through every story. Along the way, they are joined by other pioneers and other family from Nordland (Norway) literally following in their footsteps. A couple of recent spin-off series, due to reader demand, continue the legacy that Snelling began writing in the 1990s.
You might like this if you like: Historical fiction, the Little House on the Prairie stories, or multi-generational fiction series

What I've liked: It's been awhile since I've stumbled onto a good series that scratched a literary itch I have: a series that invites us along as a family traverses good times and bad over a span of years. Multi-book stories like this often feel more realistic, more natural. We experience the big picture, one story at a time. It reminds me of the big picture of which we're all a part; today's drama isn't the end of the story.
Kudos to Snelling for immersing the reader in a vivid, well-researched story world. …But even more than that, I've loved her almost-poetic style. Here's one example, when Ingeborg worries over her injured son.
She could feel peace tiptoe into the room, shy as a fawn. As long as she hummed, it drew closer and wrapped her in its arms. It stole across the little boy, circled the old woman, and wrapped the others, too, in its warmth. Ingeborg knew with all her heart that if she turned quickly enough, she would see Jesus himself, or one of His angels, standing right behind her shoulder.                  – From Book 4, The Reapers' Song
I'm not crazy about: Detailed history of the frontier isn't for the squeamish. Occasional scenes give us a front row seat to necessities like hog butchering. These are seldom, though.
The bottom line: I recommend this series highly for those who want to settle in and get to know a family. Each book could be read as stand-alones, but it's much more satisfying to become invested over the long-haul.
What about you? If you were a pioneer in America in the 1800s, where do you think you'd like to settle?