Review: Whisper on the Wind
Once a month I offer a review– usually fiction, sometimes non-fiction, sometimes movies/TV. Grab your favorite hot beverage (mine's a mocha), and let's talk!
This month we'll whisk away to World War I in Belgium, 1916, in Maureen Lang's Whisper on the Wind.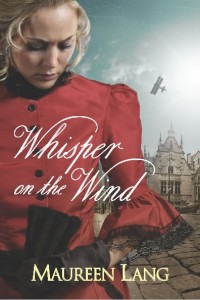 Rating: 5 out of 5 mochas
What it's about: Isa and Edward have known each other forever. Now the terrifying German army occupying their homeland makes this war feel like it'll go on forever. Can they operate their underground resistance newspaper and survive? Will it bring them together or will the war tear them apart?
You might like this if you like: Historical fiction in general, Downton Abby, the movie Swing Kids (even though it's about World War II)

What I've liked: Whisper on the Wind sticks with the reader long after "The End." I read this, oh, maybe two years ago. Even now I see the streets of their Belgian city and feel the desperate tension from the deadly enemy's occupation and all-seeing eyes. Lang combines vivid detail and action with the emotion of well-developed characters. This is one of those stories that makes you feel like you have an idea of what it was like to live during this terrible time. It also illustrates inspiring bravery and heroism borne from necessity.
I'm not crazy about: Maureen Lang can't help this, but I didn't like that real people had to endure such conditions during this war. It's sobering, but we can't ignore what happened.
The bottom line: I'm so glad I picked up Whisper on the Wind. Lang wove a rich tapestry of story featuring characters who mirrored real-life homeland heroes.
What about you? Do stories based on real events, like this book, draw you or make you shy away?