I'd like to have your help.  I'm working my novel, and it's time to name one of the secondary characters.  (Scroll down to the Nov. 4 post to read the premise.) Let's make this a group project.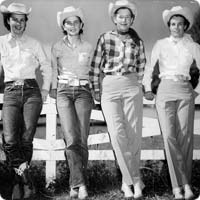 Here's a little bit about her: she's a close friend of my main character. You might call her a rabble-rousin', 1940s Annie Oakley. She can shoot and ride with the best of them, and then captivate the whole room while loudly spinning a yarn. All tomboy is what you could call her, except for her trademark pearl necklace and red lipstick. The only thing bigger than her love of mischief is her love of friends and family.
So…a blank birth certificate sits before you. What name will you pen? Please vote in the poll on the side.  I can't wait to see what you all think!