Dearest Aunt Ottilie
Around Thanksgiving I asked you to help me name a character in the novel I'm writing. This secondary character is a rabble-rousin', tall tale-tellin' whirlwind who's the most loyal friend you'll meet. (Here's that post, and here's more about the story.)    A poll was posted, and your suggestions rolled in.
Then I came out of left field and told you that I was naming her Otto, short for Ottilie. I figure that I owe you an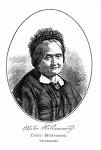 explanation.
So, here's where that came from: over Thanksgiving we visited my family, traveling with my parents to spend time with both of my grandmothers. My grandmother on my dad's side ("Grandmama" to me) is the daughter of German immigrants.  While there she showed us some of her personal treasures and family heirlooms she had rearranged.  Each was placed carefully on a doily-topped table (that's a lacy covering for you men-types!).  In passing she picked up a faded, old hardback book. "…And this is the book that my aunt wrote." The name "Ottilie Wildermuth" spanned the front. The title was in German.
Of course, being a writer type myself, I zeroed in on this little tidbit. Who was she? What did she write? Did any of her writer genes trickle down to me?  =)  Grandmama doesn't know too much about her, except that she was an aunt in Germany on her mother's side.

My history-loving curiosity wouldn't let it rest. I went straight to the fount of all knowledge and wisdom: Google.  It offered a few answers. Apparently Ottilie lived in the mid and late 1800s and created a number of works.  Most of her writing career was spent writing novels and short stories for women and children.  She also worked as a magazine editor.
I wish I knew more about her. …But thinking about her during the drive home at Thanksgiving, the name Otto stuck with me.  My character informed me that it was settled.  So Otto she'll stay. I wouldn't want to argue with this one!