…Something Blue
Spring is here. I just know it.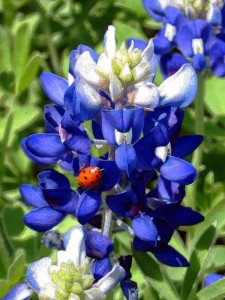 Well… yes, Alison, you may say. Haven't you been noticing the calendar?  Of course it's spring.
Yet without the calendar, I'd know it anyway.  I can summarize it with one word: bluebonnets.
Now, when I mention that word, most people have one of two reactions. The first kind of reaction brings a flash of instant recognition and a smile.  The second might be indifference.
Here's the deal:  for those of you reading this who are having the second reaction, today I invite you to become an honorary Texan if you wish.  Bluebonnets, you see, are a Texas thing.  (Oh, okay, I'll say it correctly.  It's a Texas thang.)  Right about now in a large swath of the state, these wildflowers are making their semi-sychronized debut.  It's a quiet, brief ritual that can stun with beauty.  They transfigure humble meadows to azure carpets and bracket highways with untamed ribbons of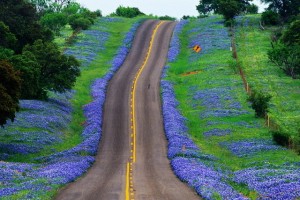 perfume.  They lift spirits in general spring cheer.
For many drinking in the sight is part of a yearly, essential Texan experience.  …For me as well.  A few years ago we moved to another state.  Nothing replaces seeing them in person, but I can enjoy them through pictures.  I rest assured that not far away the bluebonnets are resuming their role as ambassadors of the season.
Make no mistake that I'm proud of my Texas heritage (big surprise!), but I'm also fascinated by seeing other places through your eyes.  If spring doesn't equal bluebonnets for you, what signals spring in your area?  I'd love to hear about it.