Just Beneath the Surface
Some of you know that David and I got to run away last month. Vacation called our names, and we didn't turn a deaf ear. Two states showed us their amazing sights. One of my favorite stops was Antelope Canyon near Page, Arizona.
At first glance it doesn't look like much.  If you didn't know it was there (and if fences and tour guides were gone), you might pass by the scene below without a second glance. This was the opening: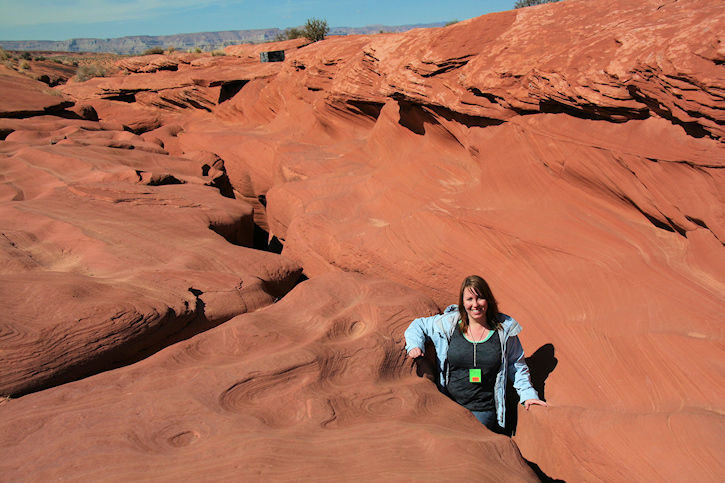 But just beneath the surface lies one the most famously photographed slot canyons in the world. David took this. (You can see more from this trip at Reflections of Creation.)
I can't really describe how beautiful it was to be down there. Even though it was just for a couple of hours, the memories will stay with me forever, I imagine.
Later the thought came to me: how often do I pass by things in my everyday life that deserve a second glance?  What do I miss out on in my busyness?  Heaven forbid if I veer a smidge from my to-do list.
Yet God does give us those chances. A mosaic of people and places fills my mind – mental snapshots reminding me of times God has made me slow down so I wouldn't miss it. I'm grateful. It could be as simple as stopping to watch a sunset seen from my backyard while I'm hurrying my chores, chatting with a sweet person while waiting forever in line at Walmart, overhearing a little kid telling a joke, or talking with an elderly person only to learn that he's a Pearl Harbor survivor.
They're brief, sometimes forgotten moments, but they can form some of the treasured touchstones along the journey of our lives.
I pray that every day I'll have the eyes to see before I pass up the treasures.