Book Signing
The day finally came. The book signing. I was going to meet a celebrity! …Well, about as close to a celebrity as I get excited about these days. Plus, it was also about food. Win-win.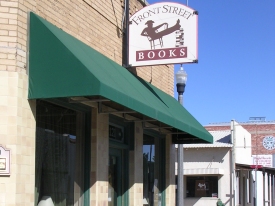 David and I had rolled into Alpine, Texas for a weekend getaway.  A book signing made it on the agenda, too.  Lisa Fain, a.k.a. The Homesick Texan, would appear and sign my post-it-note-fringed copies of her cookbooks. These cookbooks hold no ordinary content, mind you. It's Texas food, and the longing to recreate classics and try new ones had made me a braver cook the last couple of years. Plus, she includes in her books and blog many striking, comforting images of the state.
The evening lived up to my mind's hype. Lisa shared interesting stories and scribbled an inscription in my books. I was happy. It was something to write home about.
…But how often do I get properly excited about the Author? I'm talking about God, the Author of the Bible, the universe, of us.
No one outshines Him, of course. He's the ultimate writer, creator. He not only penned the Bible, but He used the hands of mere humans – across millenia –  to do so.
His autograph is scribbled across creation and the stars in unmistakable handwriting.
And His author's inscription is embedded in my DNA, despite my sin-fringed life. The Author of the universe signed His masterpieces: you and me.
And His work in our lives is an open book for all to see the work of the Author. Paul says in 2 Corinthian 3:2 (NIV), "You yourselves are our letter, written on our hearts, known and read by everyone."
I can't think of many things more awesome. It's worthy of getting excited. Not my usual roll-out-of-bed-to-read-some-verses-so-I-can-check-it-off-my-list excited. It's the wonder of, "Amazing: I get to spend today with God, the creator of everything. I get to read His very words and hear Him speak to me – and speak through me. He wants to spend time with me."
Now, that's something to write home about.
Question for you: What's something about God that excites you or strikes you with wonder?