Review: Gilbert Morris' A Bright Tomorrow
Once a month I offer a review– usually fiction, sometimes non-fiction, sometimes movies/TV. Grab your favorite hot beverage (mine's a mocha), and let's talk!
Gilbert Morris stands as one of Christian fiction's most prolific writers. Still going strong in his mid-eighties, he's given us sweeping family sagas and numerous standalone novels. A Bright Tomorrow, the first in the American Century Series takes the spotlight this month.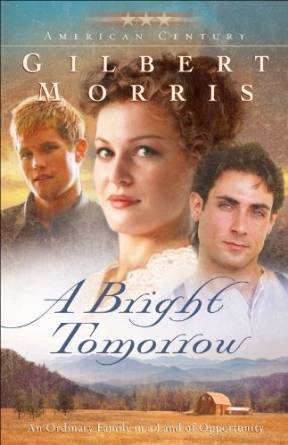 Rating: 4 out of 5 mochas
What it's about: Rural Arkansas at the turn of the 20th century can't contain the ambitions of three teenagers. Lylah, Amos, and Owen Stuart lead their large clan as the oldest siblings. Their mother strives valiantly to grow a godly family, but their father's wandering ways leave the others to shoulder the backbreaking work.
Circumstances draw the three away from the farm to far-flung corners of the country–and the world. Each takes very different paths to find their destinies. Readers lay down roots in New York, storm San Juan Hill in Cuba, infiltrate China, and witness bulging circus tents across the country. And God fills every place with His love and mercy.
You might like this if you like: Family sagas, turn-of-the-century history

What I've liked: Gilbert Morris excels at conjuring vivid characters. Each is not simply sketched; they're painted in striking detail. Speaking of details, Morris does his historical homework, assuring his readers of an accurate read.
I'm not crazy about: This is merely nit-picky. However, the writing style in this story uses conventions that were more common to the earlier days of Christian fiction. For example, "head hopping" (hearing the thoughts of more than one character within one scene) is a common occurrence. Having said that, as a writer myself I'd take Morris' track record any day–minor infractions or not.
The bottom line: The first in this series, A Bright Tomorrow sets up the saga well, and I look forward to following the Stuart family for fictional years to come.
What about you? If you had lived at the turn of the 20th century, what historical event or person would you have wanted to see in person?